TURNKEY SYSTEMS & SOLUTIONS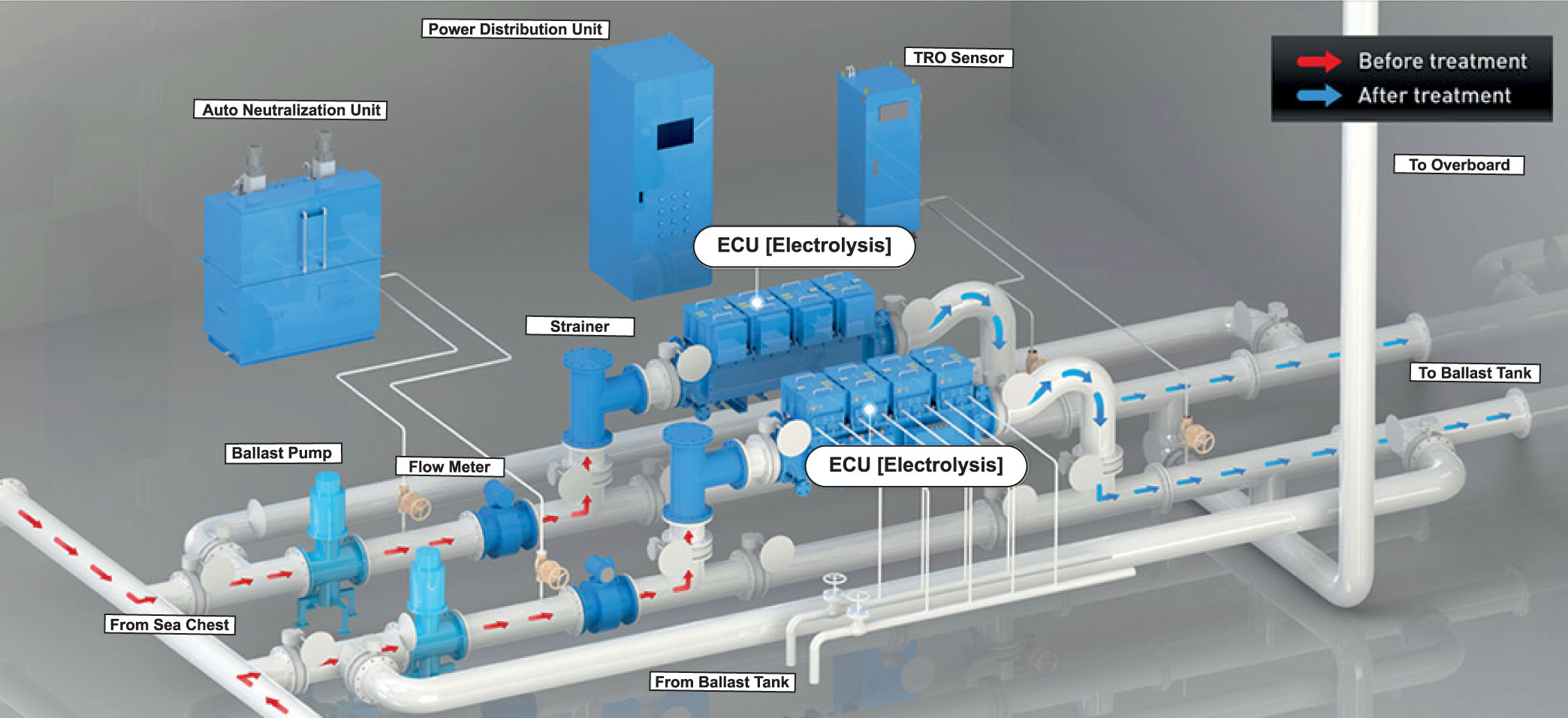 Direct Flow Through Electro-Chlorination
One Way Ballast Water Treatment

ECS-ElectrocleenTM
FLEXIBLE BALLAST WATER TREATMENT
TWO SYSTEMS - MULTIPLE SOLUTIONS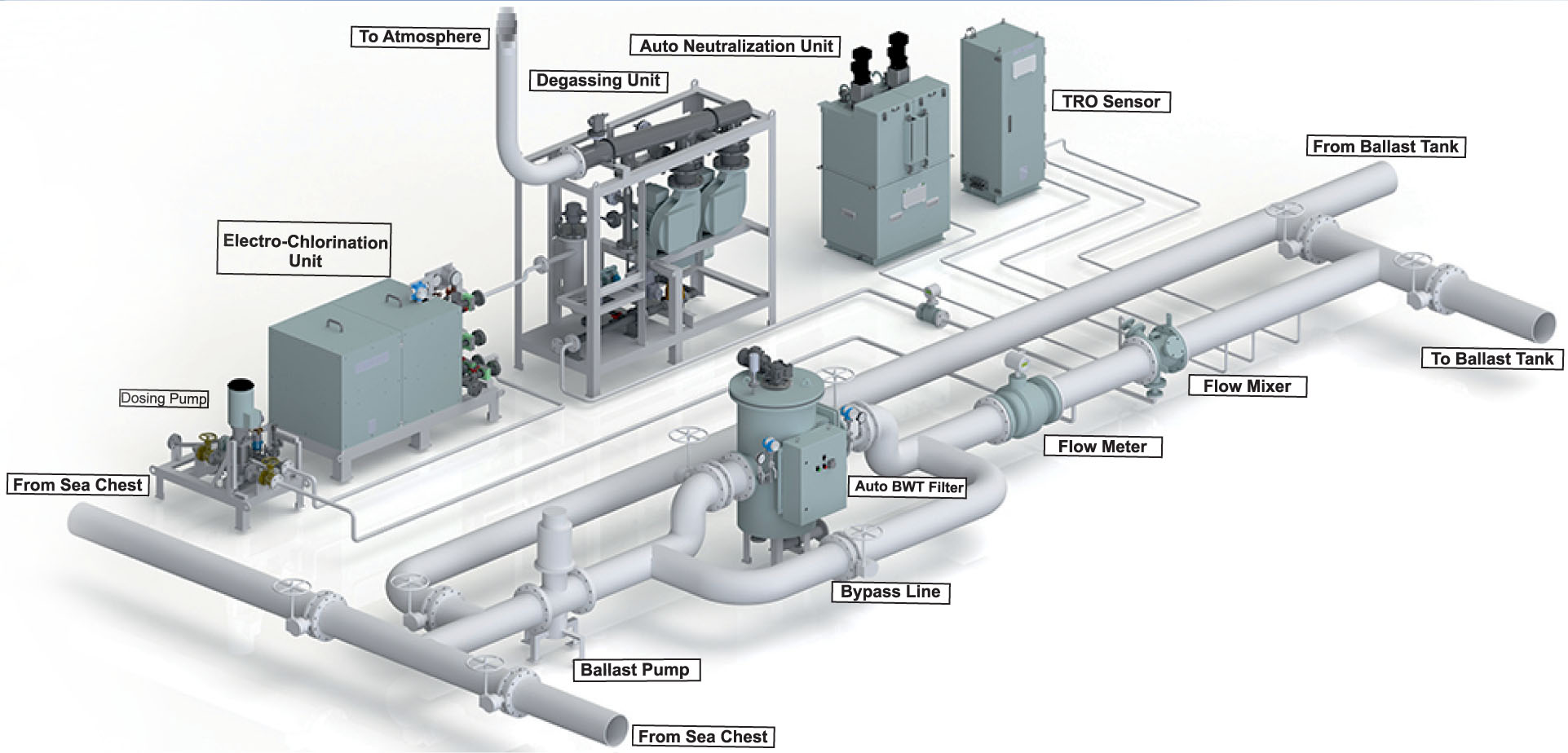 Side Stream Electro-Chloronation
One Way Ballast Water Treatment

ECS-HychlorTM
FLEXIBLE BALLAST WATER TREATMENT
ALL TYPES OF BULK CARRIERS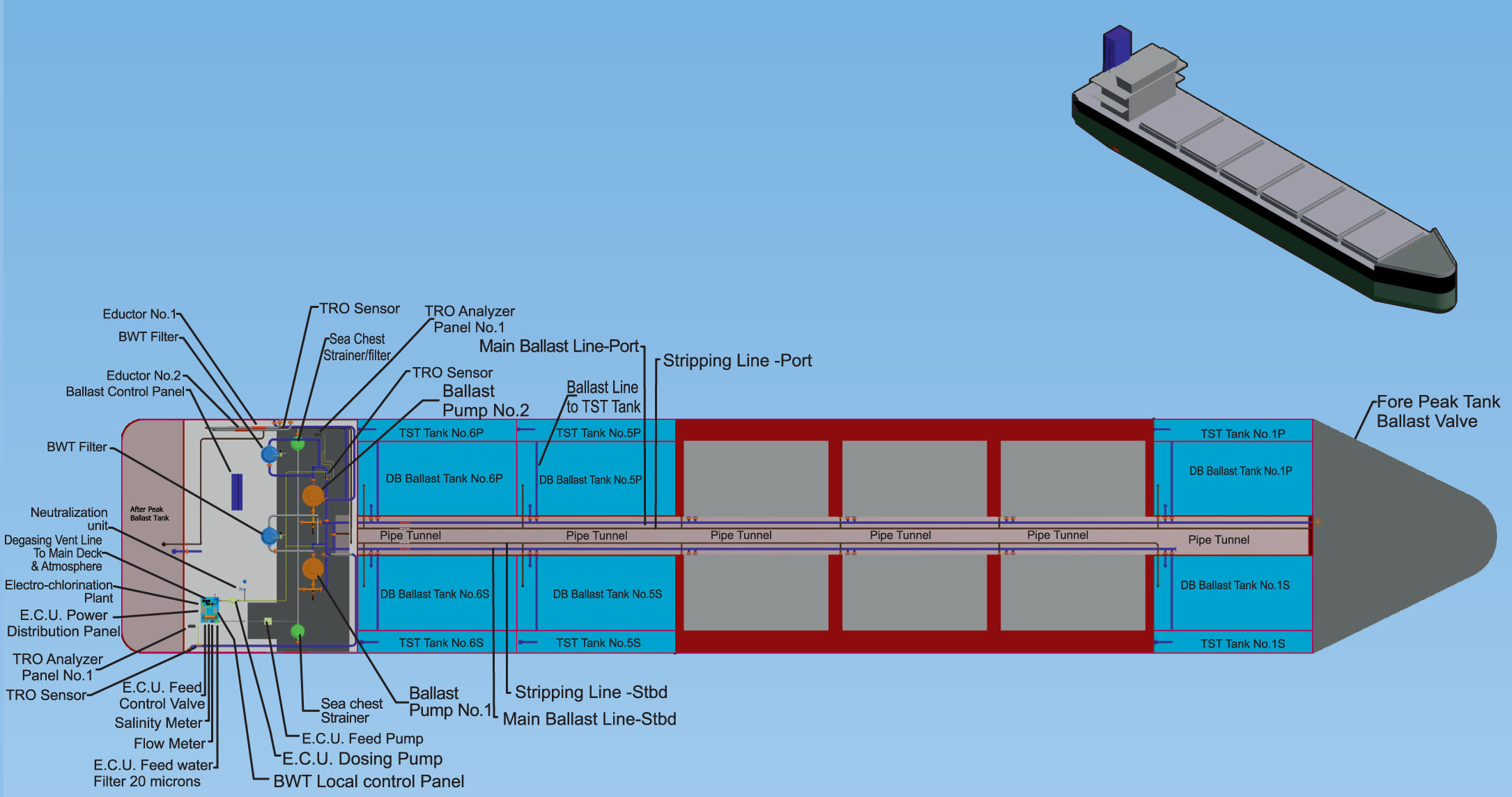 Example: Bulk carrier kamsarmax - Flexible BWT System Pressure drop, Velocity and Flow Rate Calculations

Ballast System Mode

Q-M3/Hr

Pipe Class MS

Size

ID-MM

Piping Length

Static Head Bar

V(M/s)

Pressure Drop Auto Filter

Pressure Drop Piping & Fittings

Total Pressure Drop

Sea to Ballast Tanks

1200

3605

410

410

170.00

0.10

2.52

0.2 Bar

0.80 Bar

1.10 Bar

Ballast Tank Re-circulation

1200

3605

400

400

161.50

0.10

2.65

0.2 Bar

1.01 Bar

1.31 Bar
TWO SYSTEMS - MULTIPLE SOLUTIONS
COMMERCIAL ADVANTAGES
Eliminate:"DEAD FREIGHT" No carriage of Sea Water for BWT in Aft Pk
(Maximum Cargo Capacity of Vessel as described with No loss of Freight)
Maintain: Efficient Cargo Operations with out BWT interference
(No "Off Hire" due to slow or shut down of BWT operations)
Optimize: Energy & Power consumption of BWT during sea load
(Minimize fuel penalties & additional Bunker consumption cost)
Reduce: CAPEX costs with De-rated BWT system'
(Optimize BWT size with reduced CAPEX/OPEX and Installation costs)
Avoid: Penalties and Fines with continuous efficacy compliance
(Reduce risk of detentions due non compliant BWT discharge)
FLEXIBLE BALLAST WATER TREATMENT
TANKERS WITH BALLAST PUMP ROOMS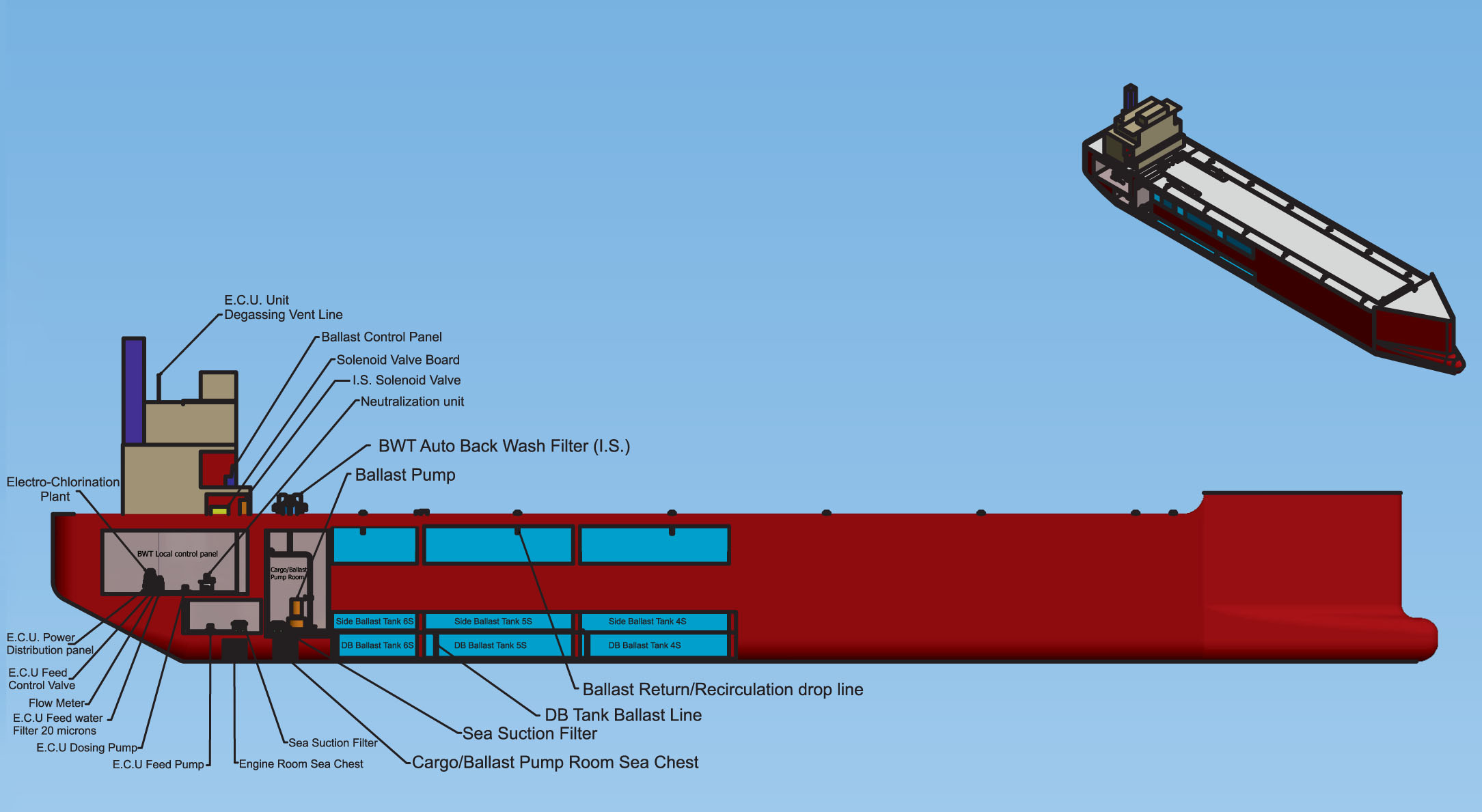 Example: Medium Range PC Tanker - Flexible BWT System Pressure drop, Velocity and Flow Rate Calculations

Ballast System Mode

Q-M3/Hr

Pipe Class MS

Size

ID-MM

Piping Length

Static Head Bar

V(M/s)

Pressure Drop Auto Filter

Pressure Drop Piping & Fittings

Total Pressure Drop

Sea to Ballast Tanks

750

3605

350

350

160.00

0.10

2.17

0.2 Bar

0.53 Bar

0.83 Bar

Ballast Tank Re-circulation

750

3605

350

350

160.00

0.10

2.17

0.2 Bar

1.82 Bar

1.12 Bar
TWO SYSTEMS - MULTIPLE SOLUTIONS
TECHNICAL ADVANTAGES
No Limitation: in Fresh Water 0-0.5 PSU low Salinity or low temperatures
Flexible BWT operations: In port or while vessel is En-route
Energy & Power consumption: Optimize with BWT during sea load
Control Efficacy: Prevent re-growth of Invasive species (Larvae & Eggs)
Pre-deballasting in tank neutralization: No risk at Overboard
Maintain: Efficacy of BWT for voyages extending from >5 days to 60 days
FLEXIBLE BALLAST WATER TREATMENT
TANKERS WITH DEEPWELL BALLAST PUMPS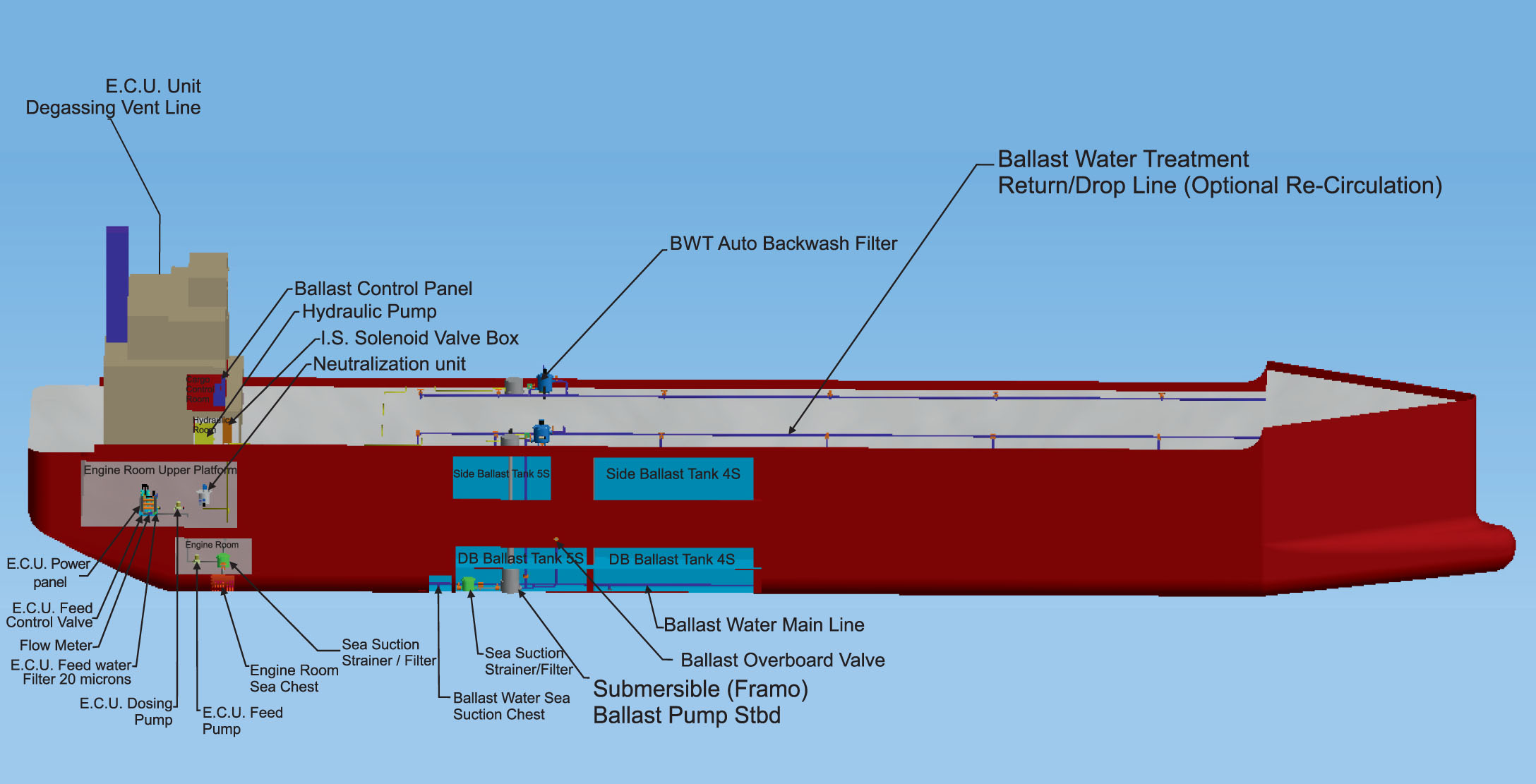 Example: Long Range PC Tanker - Flexible BWT System Pressure drop, Velocity and Flow Rate Calculations

Ballast System Mode

Q-M3/Hr

Pipe Class MS

Size

ID-MM

Piping Length

Static Head Bar

V(M/s)

Pressure Drop Auto Filter

Pressure Drop Piping & Fittings

Total Pressure Drop

Sea to Ballast Tanks

1500

3605

450

450

229.00

0.10

2.62

0.2 Bar

0.96 Bar

1.26 Bar

Ballast Tank Re-circulation

1500

3605

450

450

229.00

0.10

2.62

0.2 Bar

1.25 Bar

1.55 Bar
TWO SYSTEMS - MULTIPLE SOLUTIONS
TECHNICAL ADVANTAGES
Minimize Retrofit works: Standard Installations plans for Bulk carrier & Tanker Vessels-NO additional deck containments
Review: Vessel's Ballast Capacity and Existing Ballast piping plans
Locate: BWT plant (modular/skid) in machinery spaces-30 Scan
Calculate: Pressure drop, flow rate, Velocity of Circulation
Submit: Plans for approval to vessels Class society/Flag state
Prepare: Installation drawings and specifications for retrofit
OPEX Analysis
- Power consumption - Electrical Load Balance - Fuel Consumption
- Maintenance Expenses - On Board & Depot Spares - Nominal Life and Renewal Cost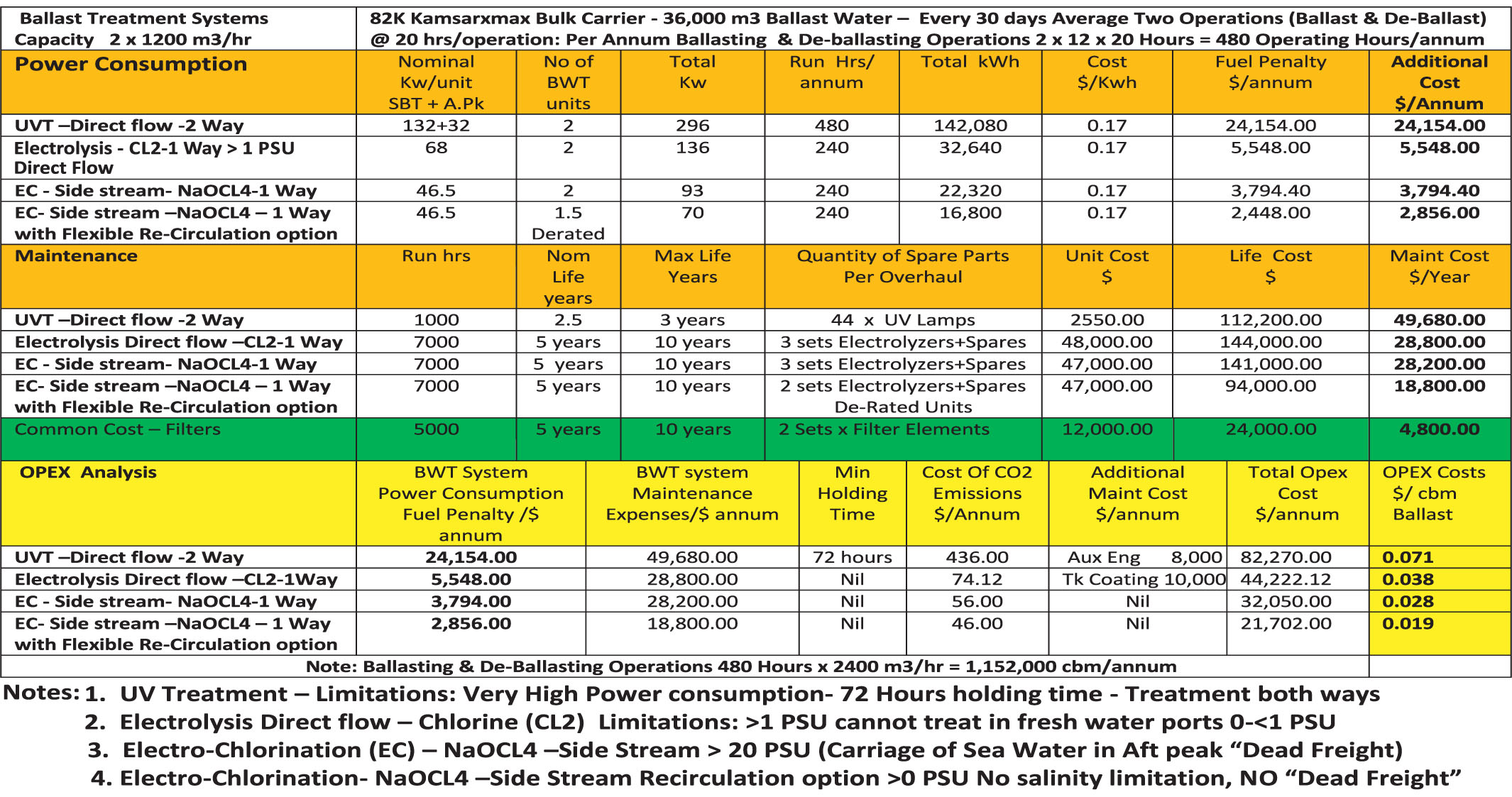 Meeting Compliance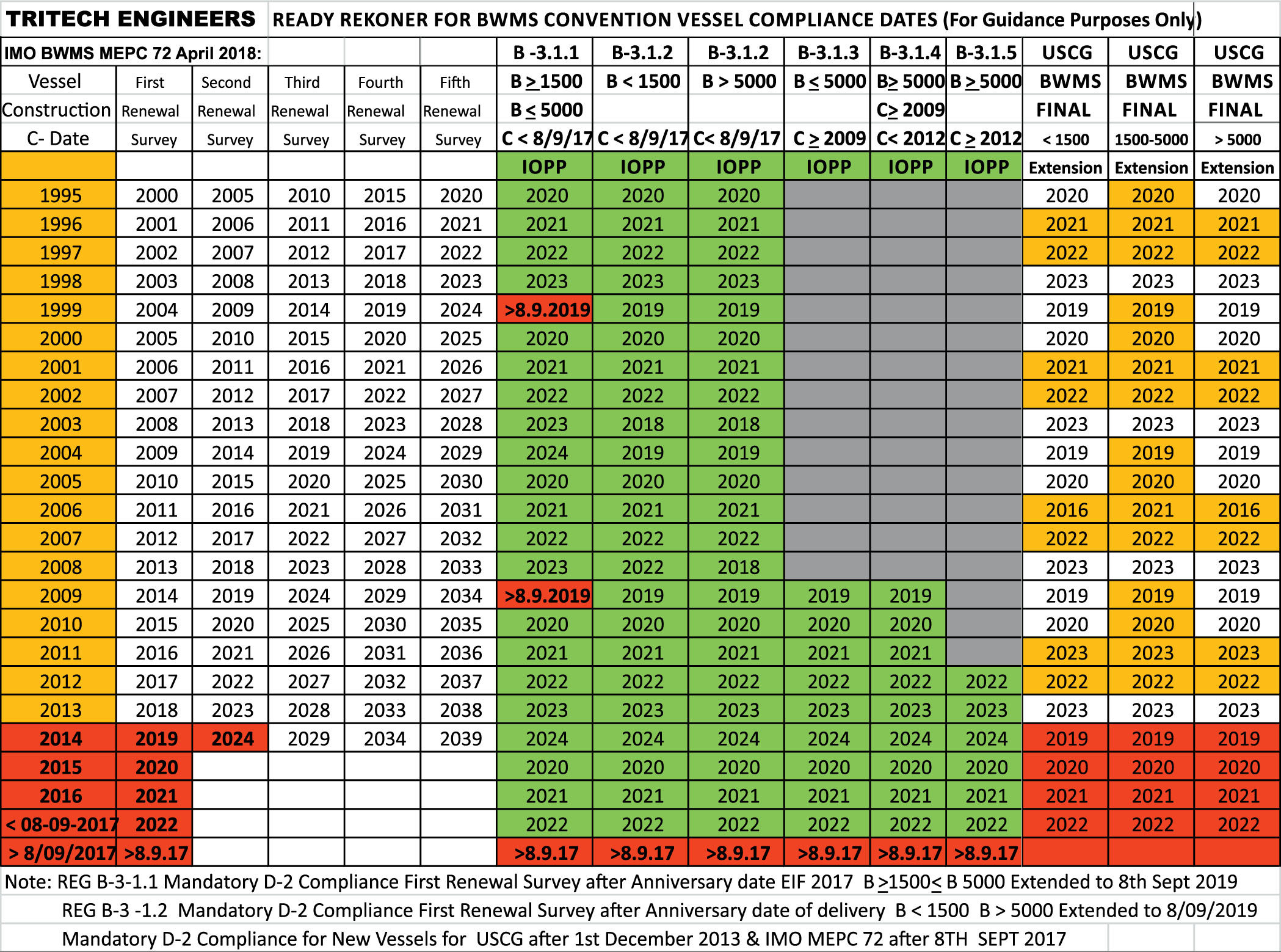 TRITECH ENGINEERS

On board installation site survey.

3D scanning.

Preparation of installation drawings in Solid Works and AutoCad.

Preparation of technical specification for shipyard retrofit installation.

Installation supervision and support.

Commissioning and testing and after sales support.

Crew Training.

Periodic inspection and efficacy testing for annual surveys.

Worldwide sales and service support.